Introduction of Unisis
Production Workflow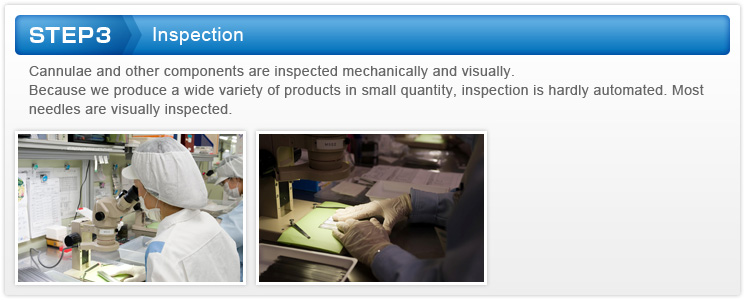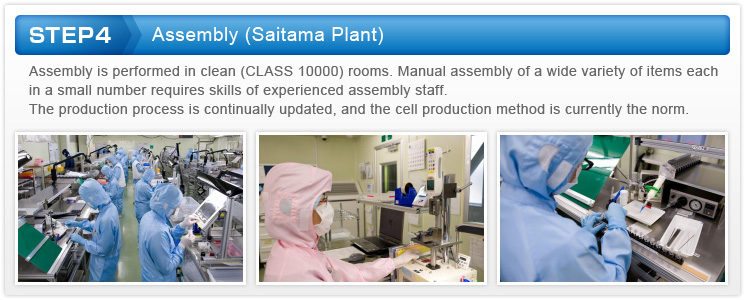 STEP1 | Receipt of raw material

Stainless steel tubing & wire, plastic components, and packaging materials are delivered by our suppliers in Japan.

STEP2|Cannula production

Stainless steel tubing is ground into cannulae, with precision and quality strictly overseen by skilled staff onsite. Finished cannulae are washed with purified water in the cleanroom

STEP3 | Inspection

Cannulae and other components are inspected mechanically and visually. Because we produce a wide variety of products in small quantity, inspection is hardly automated. Most needles are visually inspected.

STEP4 | Assembly (Saitama Plant)

Assembly is performed in clean (CLASS 10000) rooms. Manual assembly of a wide variety of items each in a small number requires skills of experienced assembly staff. The production process is continually updated, and the cell production method is currently the norm.

STEP5 | Packaging (Logistics/Sterilization Center)

Finished products are packaged in a cleanroom equivalent to that for assembly. An appropriate package (sterilization pouch, soft blister pack, etc.) is selected depending on the product.

STEP6 | Sterilization (Logistics/Sterilization Center)

The packaged products are sterilized in the sterilizer. Unisis uses ethylene oxide gas (EOG) sterilizer to avoid effects on plastic parts.

STEP7 | Performance testing (Logistics/Sterlization Center)

Our QA department performs random inspections, such as culture examinations, before shipment.

STEP8 | Shipment (Logistics/Sterlization Center)

Products that pass inspection are packed in double carton boxes to protect against damage and shipped to our customers around the world.
---